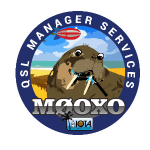 From now on M0OXO, Charles, well known QSL manager, is official partner of WWFF.
Charles will promote WWFF towards the stations he's manager for (those who qualify for WWFF). And he will upload the logs of the stations that give their permission to participate in the WWFF program.
First result of this partnership is the upload of the complete 3B9FR log qualifying for 3BFF-0004. Pretty sure some more rare DX spots will follow !