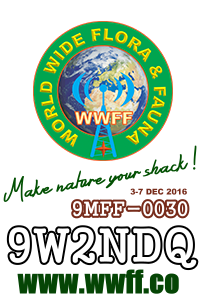 I would like to inform WWFF hunters that from 3-7 december 2016 my team SELANGORDX will depart form Kuala Lumpur city for dxpedition to Royal Belum 9MFF-0030
Thank you for your cooperation during my dxpedition. I hope all WWFF fan will be alert formy CQ from Royal Belum..
The Royal Belum State Park is a huge park in the northern parts of Peninsular Malaysia. It is part of the even bigger Belum-Temengor Forest Complex (BTFC) that is shared with Thailand. Together with Taman Negara National Park it is one of the oldest rainforest in the world, going back over 130 million years. Belum is a state park and not an official National Park. This means that local government is allowed to use the area for production forest and it is open for future development. There are efforts to get the government to recognize Belum as a national park, though up till now only a part of the huge forest is conserved and protected as state park. Belum has the potential to become one of Malaysia's premier eco-tourism destinations.
Thank You, 73 Nazari 9W2NDQ