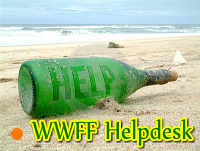 The WWFF Helpdesk will be very happy to help you if you are facing some issues related to WWFF.
Before sending an email please first check the RULES & FAQ page. WWFF Helpdesk will NOT answer questions that are clearly explained on that page.
If you are able to login it's better to use the WWFF Forum to vent your issue. In that way you will help others facing the same issue. You might have a look in the previous topics too to sort out your problem.
WWFF Helpdesk will NOT answer to rude mails neither on mails in languages other than ENGLISH.
Be patient !  We are all volunteers who are running WWFF in our free time.
To contact WWFF Helpdesk please write a mail to helpdesk@wwff.co