The first "Nordic Joint Activation" OHFF-0018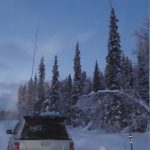 Idea for "joint activation" was born with Anders, SA2CLU and me late autumn 2017. Just needed to find good place and some extra free time. Best time was New Year holidays – who want to wait summer?
We met in Ylläsjärvi willage, as located on south side of Pallas-Yllästunturi National park, on midday and had quick and light lunch. Temperature was mild, -4C. Fast packing to Anders 4×4 pickup and on the road. I was reading map. We drove about 1 hour to north, Kolvanrova area. There would be nice place to mobile station. As we arrived to place we noticed that there are 70cm to 1 metre snow. No needed any stands for fishing poles, just stick them to snow. We used Icom IC-7200 with 30Ah acid lead battery. Antenna was linked dipole to 20m and 40m, about 10m high.
Anders started first call on 20m band. I was a little bit excited how well chasers hear us because propagation was not so good and we were here deep in north. Anders did good job and got 47 QSOs to log on 20m. Then it was my turn to call. I used 20m and 40m and got 45 QSOs. We did not got any DX this time. As we packed station to pick up it was dark, daylight is short in north in winter.
We arrived to back Ylläsjärvi willage and had dinner. Anders tasted capercaillie pizza. Then we warmed sauna. It feel great because air was colder than midday, temperature was -12C. In was nice to took some beers after sauna and make world better place. One thing is sure, we will continue these joint activations.
73 44 Timo OH7JHA