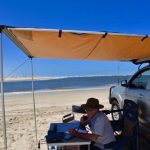 Yesterday (Sun 15/1/2017), myself, Chris VK5FR, and David VK5KC, headed down south to activate the Encounter Marine Park VKFF-1707. This was the first time that the park had been activated, and all three of us qualified the park for WWFF with in excess of 44 contacts each.
We enjoyed a great afternoon on the beach near the mouth of the mighty Murray River. Finished off the afternoon with a few beers at one of the local pubs in Goolwa, and then a nice meal at Strathalbyn.
More infomation, photos, and video can be located on my WordPress site at……
Thanks to everyone who called us.
73,
Paul, VK5PAS.