01/13/17 was a Friday – yes, Friday the 13th. Paraskevidekatriaphobia for those of you who are superstitious (Fear of Friday the 13th), but it was such a nice day – beautiful warm Carolina sunshine, 75°F (26.6°C), brilliant blue sky – nice day for a reconnaissance of the Wildlife Refuge in McNee, South Carolina – the Carolina Sandhills.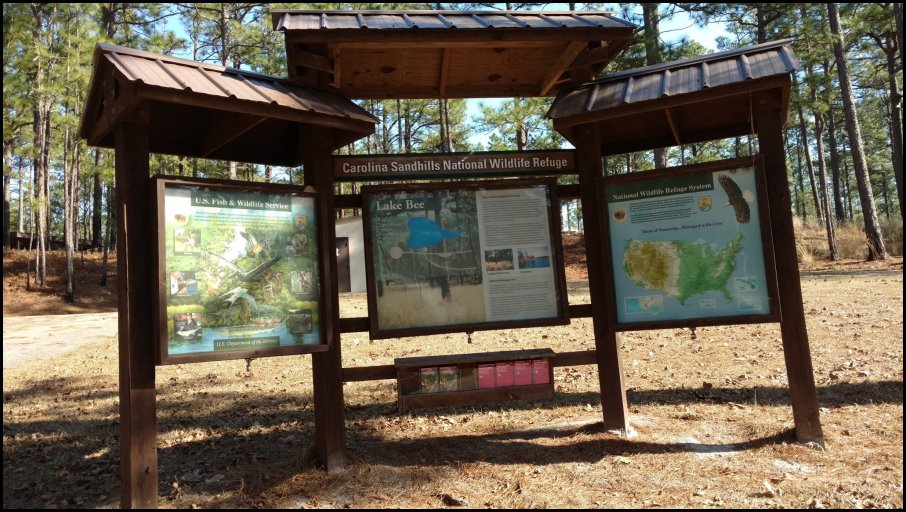 I started out a little later than I should have because it was a last minute decision. The XYL had decided to join her Ladies Group for cards and I just wanted to get out and enjoy a Spring like day. Heading North, it took me 1 ½ hours to get to McBee, SC and find the refuge. I was surprised at the amount of industry in McBee which seems like a little sleepy town, but it is home to AO Smith (water heaters), McCann and Gearly (protective clothing) and McLeod Farms – the world's third largest fruit and vegetable farm with 1,500 acres of peach trees in production (500,000+ trees).
Arriving at Sandhills, I took the entrance road (called Visitors Way) and drove into the refuge. Managed by the United States Fish and Wildlife Service, Carolina Sandhills is a 46,000 acre reserve and a very unique eco/bio system. Largely scrubpine forerst, the topography is largely sand dunes built over ecological time, complete lack of topsoil and small, interlinked lakes. Originally set aside as "unusable" land (due to very frequent brush fires, lack of topsoil and topography), it is home to a unique endangered species of woodpecker – the red cockaded woodpecker ( https://en.wikipedia.org/wiki/Red-cockaded_woodpecker), a sub-species of ground squirrel and a fire resistant long leaf pine (sometimes called Lodgepole pine).
It was very interesting driving around and looking at all the various hiking trials, horse trails and other features. The roads are a combination of paved and improved gravel. There are several spots on the inter-linked Lake McBee where fishing piers exist – all of which are very nice and well maintained. The USFWS HQ, manned by seasonal staff, were very friendly and informative about the area in general.
After riding around I finally found a side road that got me out of the valley onto a plateau where I had a clear shot 360°. I set up my FT-450D, brought the Little Tarheel HP into resonance and started out on 20 meter SSB.
To say it was a tough slog would be an understatement. The bands were just not cooperative with very strong QSB and flat signal strength when a signal can be heard. Started with Mike Fatchett, W0MU (which took several tries to get the exchange) followed by Gerard Guiraud, F1BLL (a fixture on most of my activations) and several others ending the SSB portion with WR0A a contest club call out of Parker, CO.
I figured that it might work if I went a little higher in frequency, so I switched to 17 meter CW. Well, after ten minutes and one Q (Thanks to Mike, W0MU for that one), I decided to switch back to 20 meters, but this time CW instead of SSB. 12 minutes of CQ, self spotting I ended with three Qs, Gary Stone, N5PHT (check out Gary's QTH picture on QRZ), Dick Haley, WA0ZDE and of course my good friend and operating partner, John Miller, N3EWW.
So I called it a day and headed back home stopping at McLeod Farms to ask about their operations. Very friendly site manager gave me lots of information on their operation and the XYL and I will be returning in the Spring for some fresh fruit and veggies.
Over all it was a great day – terrific weather and even with the lousy propagation, it was fun playing with the radios. Hopefully, this will be the first of more trips to Carolina Sandhills.
Thanks for reading.
73, 44
Tom, W1TEF
WWFF KFF Region 1&4 Manager.