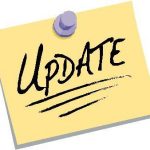 Just in time, the August 2018 update (v0.0.3) has just been released…
The headline is the addition of the CUFF award, together with a number of framework updates to support ongoing work.
In particular, attempts to detect problems that prevent (potential) P2P confirmations will be ongoing.
Issues Addressed
This addresses the following GitLab issues:
Issue #00004 – Directory Manager

Address issues with slashing and unslashing of special characters

Issue #00005 – P2P Confirmation Error flag (*)

Framework put in place for future updates

Issue #00006 – hunterHomeCall (*)

Framework added – used to simplify Top Operator calculations

Issue #00007 – Directory SpecialFlags (*)
Issue #00008 – CUFF Award
(*) = Framework for ongoing development
Open Issues can be found in the GitLab Issue Tracker.
Personal Note
Development of Logsearch has to fit around family and work commitments! This is particularly the case as I've recently started a new job which means I'm on the road a lot!
Feedback
Any problems, or new feature requests, via the Help Desk Forum please.