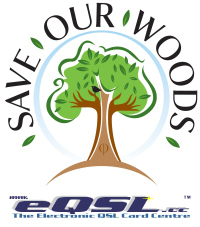 eQSL.cc is a partner of WWFF. It's a very green way of QSLing, very fast and with many possibilities. Disadvantage: eQSL is not valid to get awards (except those from eQSL). But be honest, how many of your paper cards are you really using to apply for an award ?
eQSL is free if you choose for a standard eQSL lay-out (most of them are really not very attractive).
If you want to upload your own eQSL lay-out the Bronze level costs you 12$ a year. Higher levels gives you more benefits.

How to eQSL correct for portable activations ? In this tutorial we will describe two different ways to eQSL : one if you send always the same eQSL lay-out, a second one if you make a different lay-out for every activation. Continue reading →