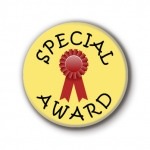 WWFF added the button "Special Awards" into LogSearch.
From now on we can add special event awards and make them available via the well known LogSearch procedure (push the button and get the award)
We're thinking about awards for one day events, activity days, personal awards etc.
If you have an award to be added please contact me at dannyATon4vt.be
If you are planning an event, please discuss the Rules (etc) with the team to make sure they can easily be implemented in LogSearch!