Hunters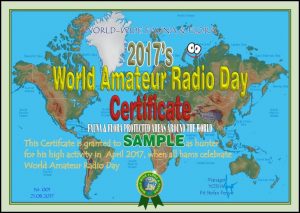 Working during 48 hours (UTC) from 00:00utc 17th to 23:59utc 18th of April 2017    7 different stations in protected areas with reference in WWFF directory and from at least 3 different countries(entities) DXCC countries or states/territory from VK areas.
Apply via Logsearch
Activators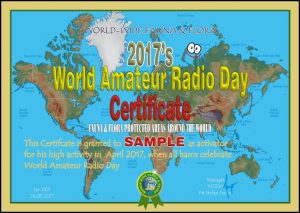 In same period you need to make 300 QSOs.
OSOs need to be in Logsearch
Deadline : 15th of May 2017 00:00UTC
Apply via Logsearch > SPECIAL AWARDS
Hope you will make a "great day" from World Radio Amateur Day 2017. See you in bands from any protected area!